Location: North East, UK
Client Since: 2012
Industry: Manufacturing
MST Parts Group is a North East based company that specialises in supplying parts, service and repairs to earthmoving machinery and the construction industry. Select Information Systems have worked with MST on two large projects to enable them to sell and manage their parts, services and repairs.
MST Tracks Online Shop
MST Tracks Online is an online shop through which MST can sell their products. The site is powered by SIS' own eCommerce and CMS platform. Both of which were customised to meet their business needs and to work around their products.
The site features secure customer login and integrates with SAGE 200 for payments and order fulfilment. The eCommerce backend gives MST full control over the site, allowing them to control stock, add and remove products, manage orders, manage users and take payments via invoice or card.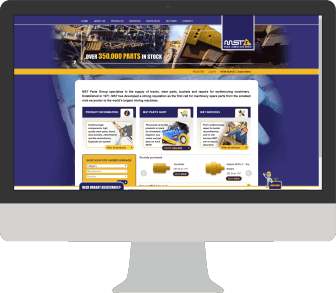 Database and Information Access System
An intranet web application used by internal staff at MST to view information about products. Through the system internal staff can view; price, dimension, product details, alternative products, machines the part is used on and much more. The system aids the staff in finding out information about their products and and streamlines the sales process.
The system has been extended over the years to include product management and most recently, a quotation system. The quotation system allows users to search through the products in the system and create, configure and print quotes.