Location: Newcastle, UK
Client Since: 2015
Industry: Healthcare
The Newcastle upon Tyne Hospitals NHS Foundation Trust is one of the largest NHS trusts in the UK offering a wide range of specialist services and incorporating the Freeman Hospital, The Royal Victoria Infirmary and four others. SIS won a competitive tender to develop a staff social club system for the NHS Foundation Trust.
Staff Social Club System
The Staff Social Club is an intranet application which provides event management, event booking facilities, lottery management, social club/gym membership management, contact management, reporting, interface to payroll for fee collection and synchronisation with NIM, their centralised personnel system.
The system is written in C#, Javascript and HTML 5 with an SQL database for data storage. Active Directory groups and permissions are used to manage user access to the system. All groups and permissions can be edited by Admin users to provide granular access permissions to the systems functionality.
Since going live the Staff Social club has helped to increase engagement with the trust's staff. It has also improved the workflow of the Social Club staff, allowing them to replace paper forms and complicated excel spreadsheets with simple online forms, reporting tools and automatic emailing tools.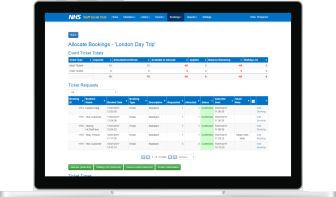 "SIS developed our Staff Social Club Database System which manages memberships, events and bookings. They took the time, early on, to develop a good understanding of our vision and work flows which has played a big part in the efficient development of the system. The team worked closely with us to ensure that the final product was fit for purpose and future proofed, to minimise the need for additional development further down the line. Any queries or ideas for development which we have, are carefully thought out by the team and sound recommendations are made to us. We have found them to be extremely responsive and engaged throughout the whole project and within the aftercare support package."

Dani - Staff Engagement & Staff Social Club - NHS Foundation Trust